The future of travel is small towns
A few 'villes you might take the time to visit.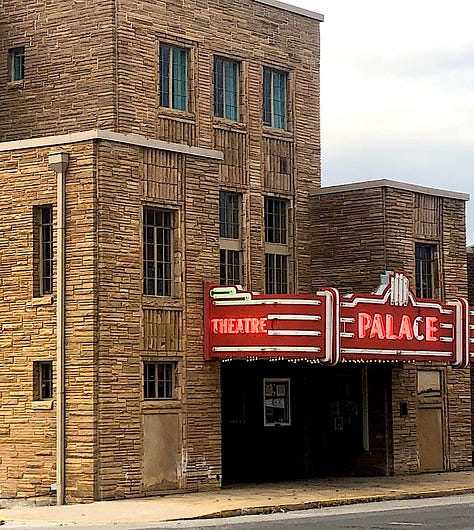 By Lisa Brunette
After a lifetime of vacationing centered on major cities, I'm shifting my interest to small towns.
There are plenty of practical reasons for this. I suppose it could be in part a sign of aging, but I'm less keen on crowds these days, I'm always looking for ways to cut costs, and I just don't thrill to the hustle and bustle of city life the way I used to. As I mentioned in the Charleston travelogue, big cities also come with some downside complexities.
As part of our road trip to South Carolina, Anthony and I looped in a mess of small towns as part of the experience, and we were glad for it. The people are friendlier, the pace slower, and the sights just as interesting. Amusingly, all but the first had a name ending in 'ville, but that one comes with a story.
Paducah, Kentucky
The name "Paducah" was attributed to a local Native American chief and his tribe… except that the ancestors of those people maintain there was never any chief called "Paduke" or band called "Paducahs." So go figure. I've heard many an indigenous place name in the Pacific Northwest bastardized by newcomers, and this is just one more, apparently.
But don't let that deter you from experiencing all this town has to offer, not the least of which is the National Quilt Museum. We didn't have room for it this trip, but it's on our list for another time. The staff at the visitor's center is gracious and helpful, even if the town is a tad scruffy along the edges. Family-owned Doe's Eat Place is a favorite with locals—I had a big, juicy burger, and Anthony got the well-seasoned, non-greasy fish 'n chips. Down the street from Doe's is a fab bakery-and-coffee shop combo, of which you should definitely avail yourself. I recommend the pralines-and-cream bar.
Crossville, Tennessee
Aptly named, Crossville was our half-way point to Charleston, so we stayed overnight there twice. Because our departure was delayed and we underestimated the first leg, we got in too late on the way there to experience it, but fortunately we made up for that on the return.
In a slowpocalypse world, our global supply chain becomes a disadvantage, and the upside to that in my opinion is more emphasis on local products. So I was thrilled to find an old train depot converted into a shop selling wares made in Tennessee. You have to be careful about gift shops sporting "local" foods, as sometimes the jars of jam or whatnot are actually prepared in a factory overseas, and contain a lot of filler ingredients. If it says, "made for so-and-so," it's not local, and you'll see the actual origin if you spy the label closely. Lucky for me, the Crossville depot had the genuine article, so I picked up a few items from Ridge Ranch, out of Blaine, TN. Boy, oh, boy, is that apple butter delicious. I'm going to try subbing it for persimmon pudding in my cookie recipe.
Crossville residents enjoy a stunning library, a quaint marquee theater, and a gem of a restaurant called The Pour House. It's easy to see why it's known as a desirable real-estate location for retirees. Hat-tip to Anne Byrne of Between the Layers for suggesting Crossville as a stop.
The town's only downside is that its history as a crossroads makes the traffic on the main drag a bit precarious for pedestrians.
None of these small towns paid us to talk about them. But you can!
Clarksville, Tennessee
We only just had a quick breakfast in Clarksville before hitting the road again, but owing to our decade-long stretch of life in Seattle, Anthony and I are suckers for a good coffee shop, and this one is charming enough to warrant mention. Located in a cute neighborhood near Austin Peay State University, Plumb Line Coffee has a great name/logo, friendly baristas, and cozy vibe. They also offer baked goods made nearby at Joelle's Bakery in Hopkinsville, Kentucky (another 'ville!), which is now on my list of places to check out.
Asheville, North Carolina
Last and (sort of?) least of the 'villes is Asheville. Least because it seems to suffer from some of the same… complexities of larger cities, with derelict spaces, homelessness, and a culture of open drug use. However, if you can tolerate the grittiness of a quasi-urban hippie town, then check out Asheville, if only to experience the wonder and joy that is Biscuit Head, where you can "put some South in your mouth." I recommend the fried-green tomato Benedict. The town also has a sweet little alt grocery co-op and plenty of vegan fare, if that's your jam.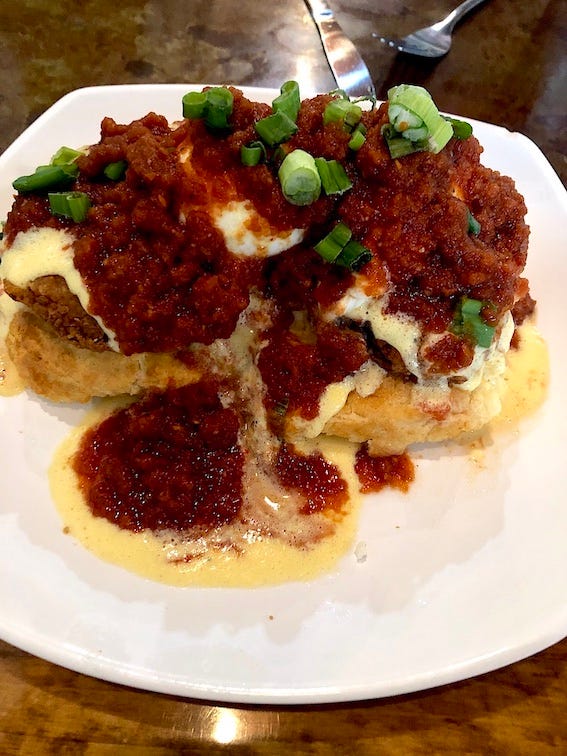 Small towns like these may not have the major art museums, sports stadiums, and other attractions that big-league cities possess, but they do a better job of catering to niche interests—such as quilting—and they can be a fantastic source of high-quality, handmade products, roots-driven history experiences, and true Americana. They're worthy of your respect, not to mention your tourist dollars.
I happen to think the future of travel is the small town, so we'll try to introduce you to some of those places in future posts.
While our final destination this trip was Charleston, and these small towns were stops along the way, we have tended to make 'lil burgs our main event on other trips. Anthony grew up in Walla Walla, Washington, and I in Belleville, Illinois (at least from junior high onward), and we often spend time with family in both locales. Over the past couple of years, we've also made day trips to quite a few small towns in Missouri—Hannibal, Ste. Genevieve, Festus, Hermann, and Washington—and have enjoyed them very much. I happen to think the future of travel is the small town, so we'll try to introduce you to some of those places in future posts.
Do you have any recommendations of small towns that are worthy travel destinations in their own right? Maybe you even live in one? We'd love to hear from a true local!