Discover more from Brunette Gardens
Gardening and garden-based eating stories at empire's end.
By Lisa Brunette
Everywhere you go in Charleston, South Carolina, you're told of its "complex" history. Complexity is a euphemism for Charleston's legacy as a major slave-trading depot, an ugly past for which city leaders issued a formal apology in 2018.
But Charleston's present could be characterized as "complex" as well.
We visited in mid-December, and our reason for choosing it had more to do with our son's presence there in the Navy nuclear program than for any particular draw to Charleston itself, though we'd heard only good things. We sorely missed Zander, so an opportunity to play tourist with him in an interesting locale was too hard to pass up.
In previous posts, we covered our decision to travel there by car, with both economic and ecologic advantages. I've also waxed nostalgic over paper maps. For this travelogue, I'll talk about the sights and bites that make the journey worthwhile while acknowledging the town's continuing… complexity.
Sights
With our travel schedule and Zander's Navy duty, we had just four days to explore, so we prioritized according to our collective interests. Top of my list were the legendary plantation gardens, and I was able to get the kid excited because he had yet to see an alligator despite living in Charleston since beginning the nuclear program at Goose Creek over the summer.
Magnolia Plantation & Gardens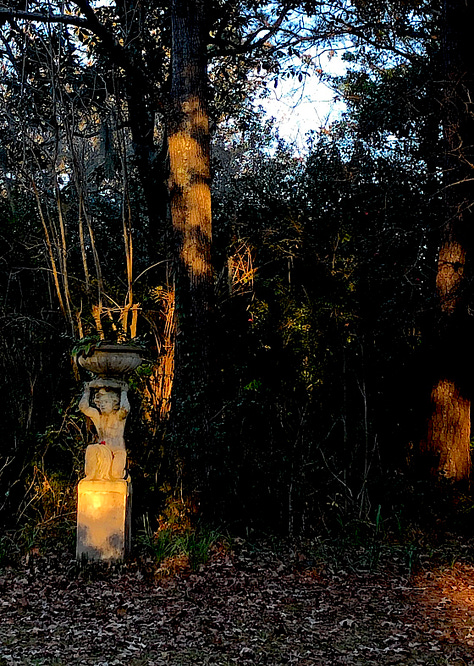 With clear skies and mid-December temps in the 50s, we hit this storied place first, which came highly recommended by travel sites: "Charleston's most-visited plantation," "one of America's most beautiful gardens," etc. Magnolia houses the Audubon Swamp, named after James J. Audubon, who visited the plantation and used it as a site for some of his famous bird studies. Like I said, complex. I'm a longtime member of the St. Louis Audubon Society, and about a month ago, I received an email detailing their ongoing debate whether to change the society's name. Me, I'd rather keep it as a powerful historical reminder rather than erase it altogether. All this work to agonize over a name change doesn't help the birds one iota, either.
The swamp itself is ethereal, we spotted a few gators sunning themselves on platforms, and the only downside was the detritus of human existence spoiling nature, but that's to be expected, I guess, in an urban area.
The plantation grounds are storybook lovely, with Spanish moss dripping from the trees, sweeping vistas across waterways, and stone statues tucked in here and there to charm the eye.
One true source of continuing complexity in Charleston: It's a very expensive place to visit. Admission to each individual attraction at Magnolia Plantation has its own price, with a few groupings, and they can really add up. We opted for the garden grounds and swamp, leaving out the plantation house interior and slave quarters since it was so nice outside. Pro tip: Take advantage of discounts for seniors and military (we did the latter, but as Anthony likes to remind me, soon he'll qualify for the former).
Patriots Point
You need the better part of a day to take in all on offer here. The USS Yorktown was an important stop for us, as once he finishes his training as a machinist's mate, Zander will be assigned to an aircraft carrier. So touring the Yorktown gave us a visual of his future work setting—if not exactly, then at least the WWII version. But one need not have a personal connection to appreciate the Yorktown's sheer grandeur, engineering feat, and history.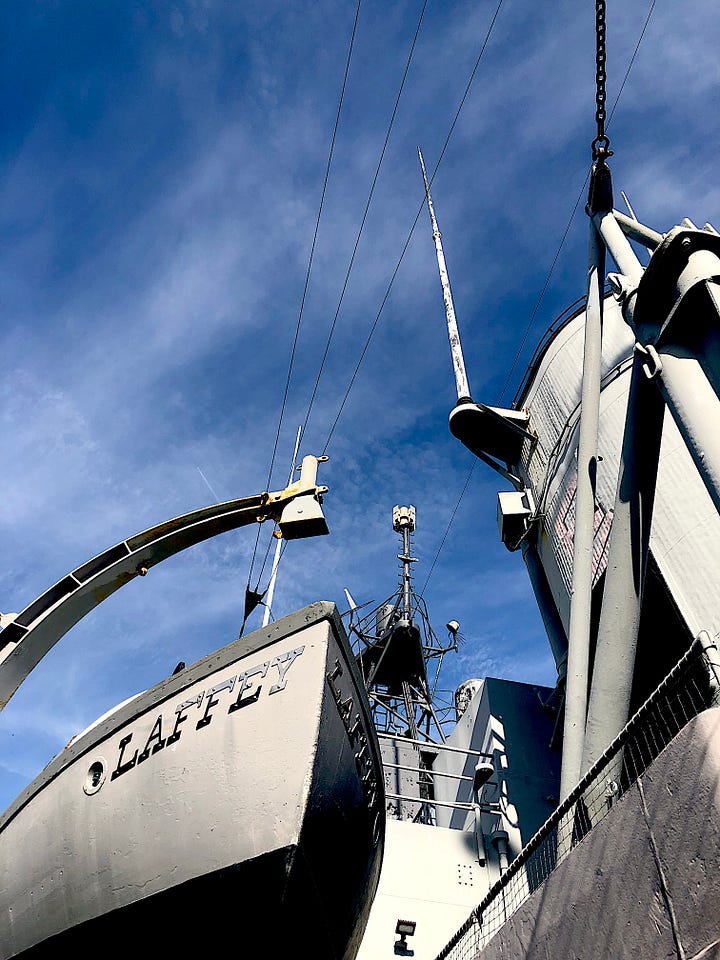 Known as the "Fighting Lady," the Yorktown was a major player in the Pacific theater during WWII. Up on the flight deck, the number of enemy craft destroyed is noted in bold symbols. You can get up close and personal with some pretty impressive aircraft, which held a bit of nostalgia for this Air Force brat. Down below, you can tour the crew quarters.
The Yorktown also houses the Medal of Honor Museum, and I challenge anyone to make it through there with a dry eye.
Fort Sumter
The significance of Ft. Sumter as the site of the US Civil War's flashpoint cannot be overstated. It was here on a makeshift island in the middle of Charleston Harbor where the first shots were fired, pitting men who'd previously been friends and family on opposite sides. Indeed, Brigadier General PGT Beauregard, who took command of the Charleston Confederate forces, was the former West Point student of Major Robert Anderson, commander of the city's Union forces. Once the shots had been fired and returned, and war officially begun, the residents of Charleston cheered.
Surprisingly, no casualties were endured on either side, though the fort was pretty well demolished.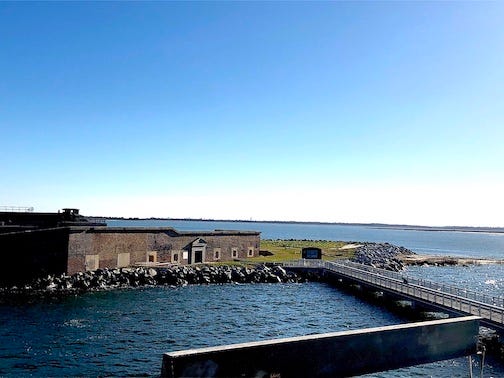 The ferry ride to Fort Sumter offers great views, not to mention the chance to spot dolphins, though chilly in December. The museum at the fort is excellent, and I only wish we'd had more time for it before we needed to make the return ferry.
Bites
As Anthony mentioned in a previous post, we rented a place with a kitchen so we could cook our own food, which both saved us money and helped preserve our health. We also opted to only take breakfast and lunch in restaurants, avoiding eating out for the most expensive meal of the day. This made for a much more relaxing experience, giving us a break from peak-time crowds and getting to chill out with Zander.
The result of this approach is that we ate a lot of sandwiches in Charleston.
They were all good, but The Pass was sublime.
Seriously, their roast beef sandwich lives in my memory still. I chose the one called "No, We Have Not Seen 'The Bear'," which Zander tells me is a reference to a trending Netflix show. The owner, Anthony Marini, made the sandwich himself, and we chatted over the prep bar in his tiny storefront space. He's from Philly and recently made sandwiches for the St. Louis Blues hockey players when they were in town.
Zander would like me to give a shout-out to the Boxcar Betty's chain, which makes a mean chicken sando, though his favorite menu item is the pimiento-stuffed portobello option, great for vegetarians (not that he is one).
For our one big breakfast meal out, Virginia's on King gave me the Southern grits dish I needed to make the trip complete.
I lived in Miami for two years in the early 2000s, so I'm always looking for a chance to break my moratorium against coffee with a bonafide Cuban version. I got exactly that from Cafecito, the owners having recently relocated from Miami themselves.
Speaking of coffee, one of the charming aspects of warmish towns like Charleston are the ubiquitous walk-up window establishments. Down the street from The Palms is Brown's Court Bakery, which makes a mean gingerbread muffin (with lemon glaze) and some to-die-for cookies.
The Greater Charleston Complexity
The downsides to Charleston are the same ones virtually every sizable city in America faces today: crime, homelessness, a widening gap between rich and poor. Our vacation rental was a block from the main thoroughfare, King Street, which was convenient and walkable, but we often opted for the side streets instead to avoid aggressive panhandling and rather rude crowds—some guy actually ran over my foot with his baby stroller. While our rental was gorgeous and clean, one we'd highly recommend, there were some sketchy, boarded-up buildings around us. We were awakened in the wee hours a couple of nights by drunken revelers and sirens (a lot of sirens).
While we could chalk this up to our age and decreasing interest in city life, Zander said he finds Charleston annoying because it's got a "partying preppie" vibe instead of what he sees as the gritty authenticity of cities like Seattle or St. Louis.
Still, we had a great time. The history, culture, and food absolutely make it a desirable destination, and as we've shown with our decisions to drive and rent a place with a kitchen, you can visit on a budget.