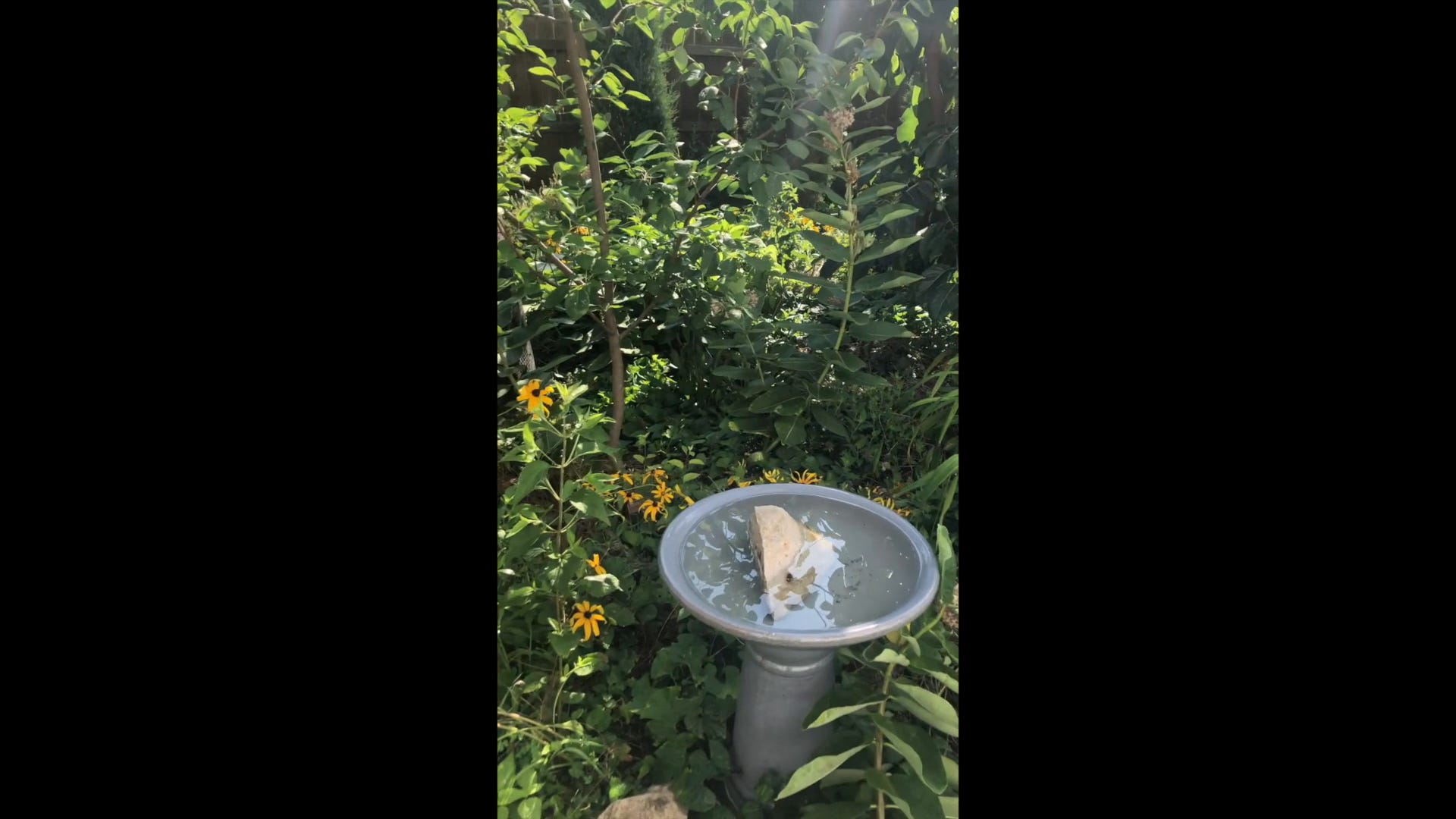 Most of you couldn't tour our garden when we opened it up to the public this summer for the Sustainable Backyard Tour—nor the previous year for our Wild Ones tour. But via the above video, you can virtually walk with me through our wildlife-friendly, native-plant dominant, permaculture food forest.
Garden stats:
We were awarded platinum certification in the St. Louis Audubon Society's Bring Conservation Home program in June 2021, after less than three years in the program, a record! Platinum status is the highest designation, and at the time, it had been achieved by less 2 percent of all gardens enrolled.

Brunette Gardens is a Monarch Way Station, a Wild Ones Native Plant Habitat, and a National Wildlife Federation Certified Wildlife Habitat. You can see all the plaques for these designations hanging on our fence at the start of the video. I'm afraid Anthony and I are a couple of gamers who can't stop collecting aaaaaalll the badges.

I also participate in the Shutterbee Citizen Science program, having recorded 818 observations of 26 different bee species in our garden to date over four years in the program.

We're doing all of this on just one-quarter acre, in an older suburb of St. Louis, Missouri, USA, dating to the early 1900s.
In addition to a thriving annual vegetable plot full of carrots, Swiss chard, dill, cucumbers, zucchini, tomatoes, and more, the garden features around 150 native trees, shrubs, flowers, and grasses.
Here's some of what you'll see in bloom or in fruit in the video:
Corylus americana - American filbert/hazelnut

Asclepius syriaca - Common milkweed

Echinacea purpurea - Coneflower

Oenothera biennis - Evening primrose

Ratibida pinnata - Gray-headed coneflower

Rudbeckia hirta - Yellow coneflower

Achillea millefolium - Yarrow

Eryngium yuccifolium - Rattlesnake master

Heliopsis helianthoides - Ox-eye sunflower

Veronicastrum virginicum - Culver's root
Our garden was featured in the spring 2022 issue of Wild Ones Journal, a national publication serving that organization, which is dedicated to native-plant landscaping and education (see page 8 in the linked pdf).
In the walkthrough video, you'll also get a peek at the Justin Rhodes Chickshaw, a mobile chicken coop that has its pluses… and minuses. Our flock was taken out by (most likely) a mink that collapsed the net fence around the chickshaw and stole in through the egg door in back.
What do you think of the garden? And the video? This was my very first attempt with iMovie, so I'm a total noob; all comments and suggestions are welcome.
Below the cutoff here for paid subscribers, a few goodies: 1) a chronicle of our six-year project from start to finish and 2) my food-garden planning charts. I'm thrilled when any of you want to nerd out with me on this garden stuff. Enjoy!
Watch with a 7-day free trial
Subscribe to
Brunette Gardens
to watch this video and get 7 days of free access to the full post archives.