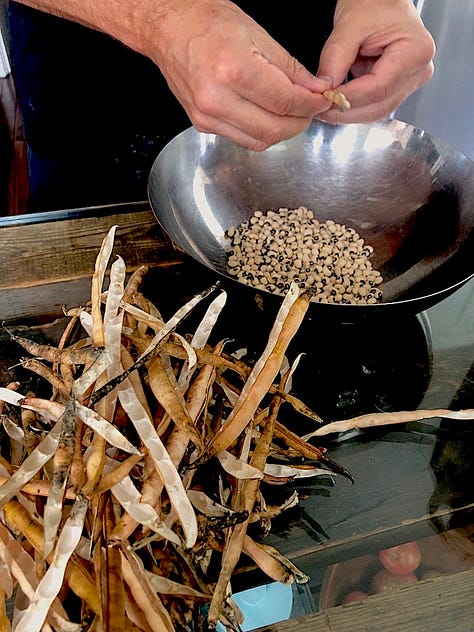 By Lisa Brunette
It's cooled off here pretty significantly from the triple-digit temperatures of just a few weeks ago. Our massive tomato harvest is waning now, with nightly temps beginning to dip toward 50°F, activating their kill switch. The zucchini, which frightened us with its alacrity, is also tapering off. There's the last of the black-eyed pea harvest to bring in and shell, but the cucumbers and wild plums are done, the dill has gone to seed, and the basil is showing signs of wear.
September is one of my favorite months, with that cool undertone to the air that hints at fall. We like to extend the growing season by planting a fall crop, and those are sprouting now: turnips, carrots, peas, black Spanish radishes, and lettuce. The only thing that isn't is the rutabaga, but I've yet to grow it successfully. This is my third try, and it's apparently not the charm.
We have a problem with Japanese beetles, too, and even if we wanted to control them with chemicals, which we most certainly don't, there isn't anything that really works against those buggers. We pick them off the sprouts by hand and drop them in a bucket of soapy water.
Still, this has been our most successful annual food garden by far. We've eaten well all summer and put up the following in storage:
garlic and onions

dried Swiss chard (holds up beautifully in stews and soups)

zucchini and kale chips

elderberry and elderflower oxymel

pickles, sauerkraut, and pickled carrots

tomato passata and dried tomatoes

black-eyed peas and potatoes

frozen blackberries, serviceberries, rhubarb, and kale
I've also made jams and chutney from gooseberries, elderflowers, sand cherries, rhubarb, and wild plum. My first batch of calendula oil and the fact that I've saved as many seeds as I can both make me happy.
Become a paid subscriber to read this and more than a year's worth of other posts.
Keep reading with a 7-day free trial
Subscribe to Brunette Gardens to keep reading this post and get 7 days of free access to the full post archives.